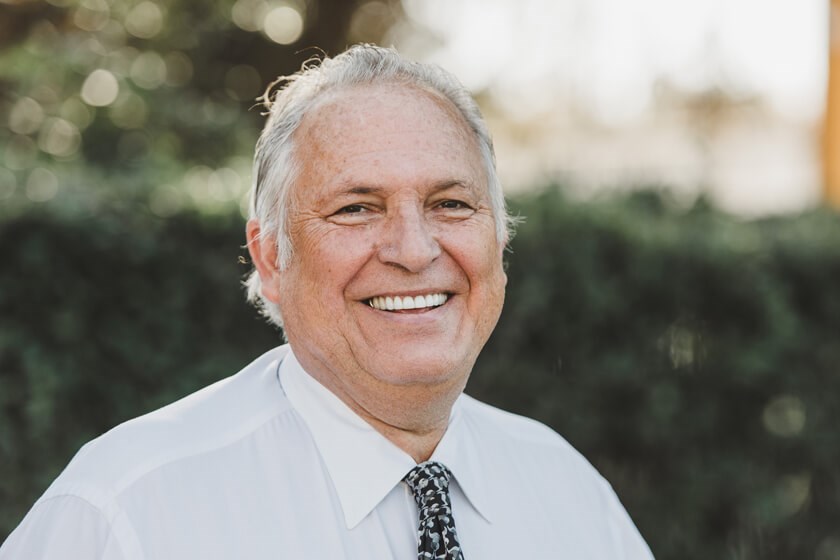 With over 40 years of dental experience, Robert F. Emigh, DDS, or as his patients like to call him, "Dr. Bob," began Emigh Dental Care with his lovely wife in 1972. Together, they have built a thriving practice that serves the greater L.A. and Long Beach, CA community, offering a wide range of surgical and nonsurgical dental procedures to improve his patient's cosmetic and oral health. As a family practice, Dr. Bob's two sons, Dr. Pat and Dr. Todd, serve alongside their dad to better the health of their patients. Dr. Bob and the staff at Emigh Dental Care take pride in providing attentive, high-quality service.
As a Long Beach Cosmetic and General Dentist, Dr. Bob focuses in performing a variety of treatments that not only enhance the aesthetic appearance, but also significantly improve dental health as well. He and his team also work closely with their patients to educate them on proper dental hygiene. Dr. Bob emphasizes preventative care, as it helps in early detection of gum disease and enables him to treat his patients for minor dental issues before they turn into something more serious. With over 40 years of dental experience, many patients seek Dr. Bob for dental care. Dr. Bob, along with his two sons, also have specific medical training in Sedation Dental specialties such as nitrous oxide and oral sedation. Some of the most popular treatments performed by Dr. Bob at Emigh Dental Care include dental veneers, crowns, implants, teeth whitening, and TMJ treatment.
Dr. Bob received his undergraduate education at the University of California, Los Angeles in Southern California. From there, Dr. Bob continued his education at Herman Ostrow School of Denistry of USC. After graduating from the University of Southern California, Dr. Bob decided to stay local to serve the greater L.A. area. Eventually, Dr. Bob opened Emigh Dental Care, where he still serves today.
Dr. Bob is a member of the following organizations and Fellow of the Pierre Fauchard Academy. As a member of these prestigious organizations, Dr. Bob is able to stay at the forefront of new medical and procedural techniques within the dental industry. Dr. Bob is honored to be a member of these societies, which continually work to advance the dentistry field for excellent oral care.
American Academy of Cosmetic Dentistry
American Dental Association
American and International Colleges of Dentists
Dr. Bob is pleased to have worked alongside so many medical professionals and organizations that have contributed their careers to progressing dental care for men and women across the globe. With having such a strong medical and societal history, Dr. Bob is recognized as a leading member in his community.
Harbor Dental Society, Past President and Honored Member of the Year
California Dental Association, Past Trustee
CDA Judicial Council, Past Chairman
Dentists Ins. Co., Past Board of Directors
1201 Financial & Insurance Services, Past Board Chairman
St. Mary's Hospital and Memorial Medical Center: Dental Department, Past Chairman
Dr. Bob is proud of being a family-owned practice and loves working with his two sons to better the health of individuals through dental care. His devoted wife, Anne, has always been a great support for his dream of opening up his own practice and continues to be his greatest cheerleader. Dr. Bob and his family are thrilled and honored to be apart of the Los Angeles community.
Reviews
"A co-worker recommended Emigh Dental Care and she has been going to them for a while; her smile is pretty awesome too. But since my first visit, I can't imagine trusting anyone else to upkeep my smile.I've been going to Emigh Dental Care for a while now. Truthfully, I can't remember when I started going to them because it feels like forever. Not only is it a family run dentistry but they also treat you like family which is probably why I may have lost track of time. Everyone in the office always has a smile on their face and they always greet you when you walk through the door. I enjoy that they can pull up your last visit or your first visit when they are trying to track the progress of your cleanings and sorts. Unfortunately, I have gotten a scolding for not following instructions (well deserved since it was my fault for not listening) but I know when that happens, they care. I had a deep cleaning where I needed a shot or two and I let me tell you, it wasn't as horrible as some people make it out to be. It's not horrible at all but that's my opinion. In all, I would recommend this office to all of my friends especially those who fear the dentist."
K.D.
Yelp
"Best dentist in the world. I'm a Oregon ducks fan but a USC dentist is for me. Never liked the dentist until I met this family of dentist. Staff is amazing and they really care about the patients. Every time Ive been I see nothing but happy people come in and leave. I fly all the way from Chicago to the best dentist in the world. Thankful for everything they have helped me with. I love my new smile and I'll be back soon for sure. Emigh family rules"
K.G.
Yelp
"The whole family goes to Emigh dental.  The kids used to go to a pediatric dentist and always has anxiety about getting any work done.  Now that Dr. Pat sees the kids, they have no problems getting work done.  We love all the staff and enjoy all the personal touches you get at Emigh Dental"
L.R.
Yelp
"I have been going to this dentist for nearly 38 years,  and I enjoy seeing them!  Yesterday I had to get prepped for my first crown, and for the the first time ever, I was a bit nervous. Pat and his crew were very comforting and got the job done with no pain at all!  I then was lucky enough to get into a root canal specialist that Dr Emigh recommended, and again was very nervous.  They did the root canal without pain and I was expecting to have some sort of discomfort today from all the work that was done.  I surprisingly woke up with very very little soreness!  Nothing an Aleave couldn't handle!  I hope I don't need to have anymore in the future, but if I do, I know what to expect!  Excellent job to the Emigh crew!"
L.A.
Yelp
"Emigh (it sounds like "Amy" to me) Dental Care has all these people named Dr. Emigh that they go by their first names, so I saw Dr. Todd.  My referral came from a really happy (picky, finicky, complainy) friend.  When I set up the appointment and was asked "when were you last at the dentist?", I went ahead and answered with a shameful "I dunno" and thought they would have a good excuse to need deep cleaning or other expensive procedures.  Not at all!  I got my teeth cleaned and my new toothbrush and booked a 6 month appointment. The office is fantastic, the staff are professionals and friendly, I felt very taken care of.  I won't avoid the dentist anymore."
J.A.
Yelp